Valentine size
Lap size
This project is made using a fun quilt as you go technique. Blocks are quilted as they are appliqued, so when you are done, you are DONE!
The pattern offers 2 sizes, a lap size quilt and a small wall hanging. Perfect for a Valentine for your sweetheart. This technique can be used to make any size blocks or quilt that you would like!
12"x 16" Perfect size for a Valentine.
48" x 64" Lap quilt size.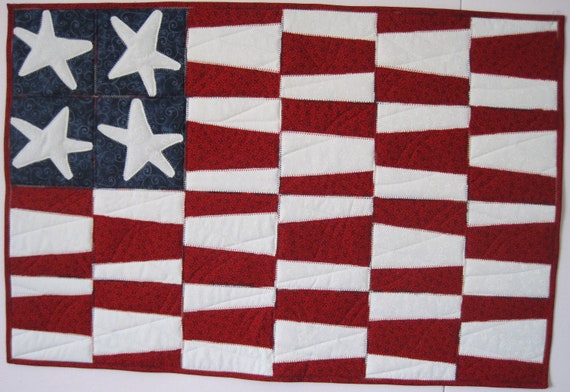 Flag quilt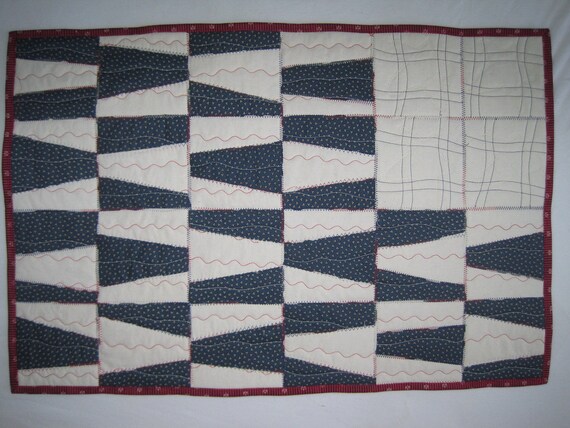 Back
Dice and Splice Flag Quilt is a fun quilt as you go project! The blocks are constructed as you quilt. Works well in either bright red, white and blue, or in a more subdued Americana scheme. It can be a wall hanging or a table topper. Perfect for the 4th of July! It does have raw edges, so there are some loose threads hanging about, but that is part of the folk art charm!
Finished size is 30 inches wide by 20 inches tall. You can make it larger or smaller by using a different sized block.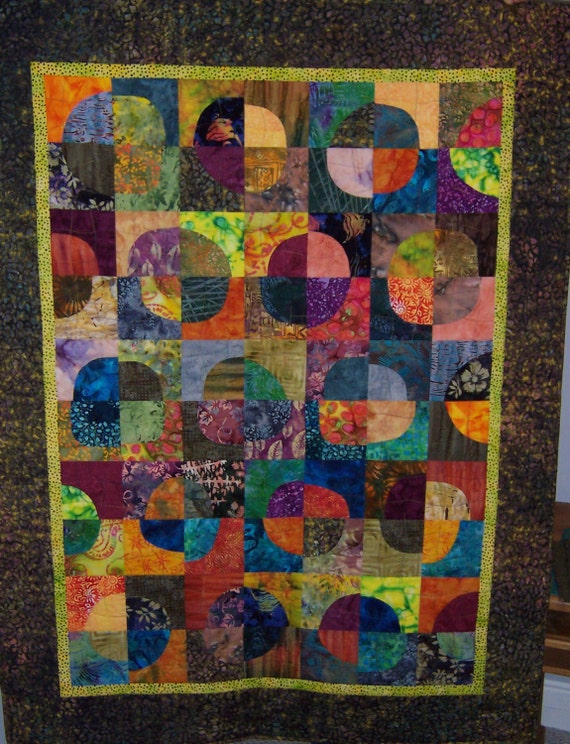 Paradise Punch
Free form Drunkard's Path blocks make a fun Punchy quilt! The curves are random and the circles don't match! No worries about sewing a perfect curve!
A large variety of fabrics is a good idea for this project. Charm packs or Layer cakes can be used. It doesn't matter what size your squares are to start with. Be aware that they will shrink, probably more than the usual 1/2 inch.
My quilt is 46.5" x 60". I used 70 blocks, set 7 x 10. You can make your quilt as large or small as you like. My blocks ended up being 5.25" square. You can make your blocks larger, start with larger squares.
My patterns are intended for you to make things using them! My copyright covers my PDF pattern. Please don't copy or share the files. Have your friends purchase their own copy.
You can gift, sell, raffle or do whatever you want with the finished items that you have made using my patterns. I would appreciate it if you mention that I designed the pattern, but that is not required.
If you would like to teach classes using my pattern, that would be great! Please let me know that you are offering a class using my pattern. Please make sure that each student has their own purchased copy of the pattern.
If you would like to mass produce an item made from my pattern, please contact me.